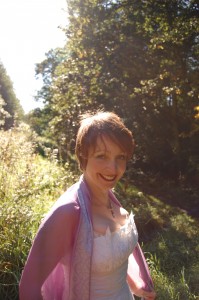 Becky is a commissioned writer, creative writing facilitator and prize-winning performer based in Leeds.  Her work is informed by the belief that not only do writing and the spoken word help us to make sense of the world and our place in it but that they provide us with tools to transform the world and our own lives.
In her spare time she can be found reading, running, cycling, practising yoga, watching films, listening to Radio 4, attending the theatre and spoken word nights, visiting art galleries, hanging out with friends and family and fox watching. She hates the phrase collateral damage, is interested in people, places and ideas and believes adventures can be found everywhere.
She has won several prizes for her poetry including first prize for The Speakeasy Open Competition, second prize in the Ilkley Literature Open Mic and runner up in the Yorkshire Open Poetry Competition.  Her work has also been shortlisted in several international competitions including The Fish Short Story Prize.  In 2013 she was the commissioned poet for Morley Literature Festival and Grassington Visual Arts Festival.
Becky's poem, 'Wolves' is due to be published by Bloodaxe in the Raving Beauties Anthology 'Hallelujah For Fifty Ft Women' in April 2015  A trilogy of Becky's flash fiction featuring the character Grief is published by Mother's Milk in 'The Forgotten and The Fantastical' and is out now.
Becky is currently seeing an agent for her second, magical realist, novel 'Skybound'.  Her first poetry collection will be out with Cinnamon Press in 2016.
Look out for progress updates on her blog.